Kitchen Hood Inspections NFPA 17A, NFPA 96
A requirement of NFPA 17A (Standard for Wet Chemical Extinguishing Systems) at least semiannually and after any system activation, maintenance shall be conducted in accordance with the manufactures design, installation, and maintenance manual.
This test inspection covers the following:
A check to see that the hazard has not changed.
An examination of all detectors, the expellant gas container(s), the agent container(s), releasing devices, piping, hose assemblies, nozzles, signals, all auxiliary equipment, and the liquid level of all non-pressurized wet chemical containers.
Verification that the agent distribution piping is not obstructed.
All wet chemical systems shall be tested, to include the operation of the detection system, signals and releasing devices, including manual stations and other associated equipment.
Fixed temperature sensing elements of the fusible metal alloy type shall be replaced at least semiannually from the date of installation or more frequently, if necessary, and shall be destroyed when removed.

The following part of a wet chemical extinguishing system shall be subjected to a hydrostatic pressure test at intervals not exceeding 12 years.
Wet Chemical containers
Auxiliary pressure containers
Hose assemblies
Wet chemical removed from containers prior to hydrostatic testing shall be discarded
Brothers Fire & Security can provide you all necessary labor and materials to perform this inspection for you. Contact one of our sales reps today!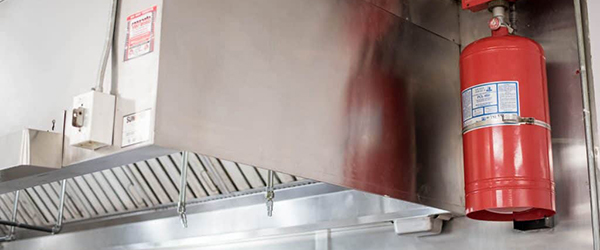 Download this Checklist as a PDF
Take this checklist with you or share with your colleagues. With years of experience and hundreds of business served, Brothers Fire and Security can manage all the required inspections on these lists.
Fill out the form to get this checklist sent to your email.
Call 763-441-2290 for help with your fire sprinkler system installation or inspection.
• Sales
• Estimating
• Design
• Installation
• Inspections
• Fire Alarm
• Monitoring
• Security
• 24 Hour Emergency Service & Repair
• Fire Sprinkler & Suppression Systems