by Stephen Cieslukowski, President | May 15, 2023 | Fire System, Security System, Monitoring | 0 comments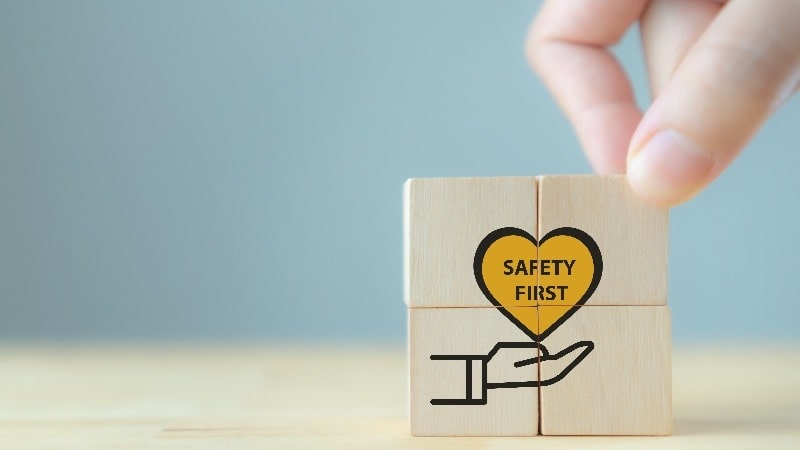 At Brothers Fire & Security, we believe that safety is paramount to our success. Like us, we know many businesses that work hard to ensure their employees and customers are in a safe, protected environment. However, considering the safety practices of your vendors–such as your monitoring entity, fire and security partner, electricians, roofers, and plumbers–is equally as important as your own.
No matter the size of your company or the vendor, it's smart business to pay close attention to all of your vendors' safety records. Most of that information can be accessed online, although it's important to note that some safety reports are only updated annually.
Based on our experience with over 20 years as a leader in the fire and security industry, here's a list you can use to safety-check your vendors.
Experience Modification Rating (EMR)
The EMR rating has a strong impact on a business as it's used by insurance companies to gauge the past cost of injuries and future chances of risk. Companies are required to report all accidents/incidents to the state, and EMR ratings are then calculated annually. A rating of 1 or below indicates a safe workplace (Brothers has a 1.00). The lower the EMR, the lower worker compensation insurance premiums will be, which gives you an idea of their safety procedures. Look at the EMR ratings of a company over time to get an accurate reading on safety records.
Safety Training
A key to making sure safety is a priority is through ongoing training. Examples of training include wearing personal protective equipment, ladder safety, hand and power tool precautions, electrical cord safety, and vehicle safety.
On-the-job safety training isn't just a one-time HR lecture during new employee training. Weekly safety meetings with the foreman should be held on job sites. Employees should also stay up to date on safety protocols, such as working with hazardous materials, proper lock-out / tag-out procedures, confined space training, and emergency evacuation training.
Silica Exposure
Silica exposure is another issue to keep on your radar because it impacts how you, your employees, and your vendors conduct work.
It only takes a small amount of very fine silica dust to create a health hazard. Blasting, cutting, chipping, drilling, and grinding materials that contain silica can result in dust that is potentially dangerous for construction workers and others to breathe.
Questions to ask vendors include:
Does your vendor wear masks?
Are all employees protected?
Are dust collection systems in place to capture dust correctly?
Ladder Safety
Consider these sobering statistics: 43 percent of fatal falls in the last decade have involved a ladder. Among workers, approximately 20 percent of fall injuries involved ladders, and an estimated 81 percent of fall injuries from a ladder were construction workers.
Ask the vendor about their ladder safety and training and if they conduct inspections before each use by each user.
Back Issues
Stretching exercises and warming up isn't just prep for a workout at the gym or running. Exercises prepare a worker's body, which prevents back injury. Find out if the vendor teaches exercise and proper lifting techniques and whether or not they are used on the jobsite.
Driving Safety
Are safe driving practices in place to prevent accidents, such as following posted speed limits, maintaining proper following distance, and not texting while driving? The company should have a phone number listed clearly on its vehicles to report potentially unsafe driving behavior as part of a safe driving policy.
Emergency Action Plan, Reporting Process
In a worst-case scenario—worker injury, property damage, hazardous material—does the vendor have an emergency plan in place? How do they deal with workplace injuries, both prevention and action? Are restricted duty plans followed for employees? Check out their injury and incident reporting process.
Does the vendor emergency action plan differentiate normal accidents from catastrophic situations? Do the procedures match the level of hazard?
Vendor safety is more complex than many people first realize, which is why taking the extra steps to research individual companies and their safety history and practices is so important. Ultimately, choosing qualified vendors that prioritize safety is crucial when it comes to ensuring the wellbeing of your employees and customers.
About Brothers Fire & Security
As one of the premier fire and security solutions providers in the Upper Midwest, Brothers Fire & Security strives to build long-term, value-added relationships. We work with business owners and property management companies, as well as all types of public institutions to solve fire and security needs. By taking advantage of our integrated bundled services, many of our clients save 25-30 percent on their safety services, annual inspections, and more. From a single location to franchises throughout the region and the country, our integrated approach saves our clients valuable time, money, and stress. We provide fire protection systems, security systems, fire sprinkler systems, fire alarm systems, 24-7 monitoring, fire extinguishers, card access and kitchen hoods.