by Stephen Cieslukowski, President | Feb 1, 2021 | Blog Posts, News | 0 comments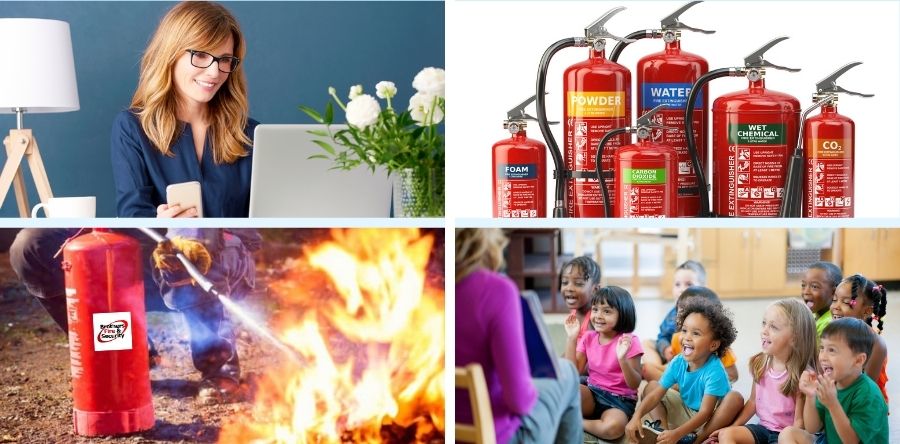 COVID has changed practically everything we do in the workplace, especially safety protocols. Businesses have worked hard to make changes to prevent the spread, such as stringent cleaning and social distancing.
However, there's one safety protocol that COVID hasn't changed: All your employees must still be in compliance with fire extinguisher training. But what has changed is how we train.
Obviously, training can no longer be in the large group setting. Travel is discouraged, sometimes not possible or allowed. Businesses are having massive staff turn-over which makes it challenging to ensure training is accessible to all employees. Other concerns are making it affordable, convenient and easy to complete.
Brothers Fire & Security has the solution to all those concerns. We offer a fire extinguisher course on our Life Safety Made Simple online academy. How to Effectively Use Fire Extinguishers provides important education, interactive testing and certification. The course is convenient and based on your employee needs. Most importantly, it meets OSHA compliance requirements. There's more good news—the platform brings training costs way down.
Training That Raises the Bar
While some online courses are a brief (and often dull) five-minute demonstration, our fire extinguisher course raises the bar to teach your employees:
Different classes of fires and what extinguishers to use.
The correct way to use different types of fire extinguishers.
The Fire Triangle, how it works and what to do.
Firefighting concept P.A.S.S. (Pull the pin, Aim at base of fire, Squeeze handle, and Sweep side to side).
Life-saving steps to take when there's a fire.
At the end of the course, each attendee who successfully passes the interactive quiz receives a Certificate of Completion.
How to Effectively Use Fire Extinguishers is ideal for employees in almost any workplace, such as educational institutions, day cares, senior living, restaurants, retail, banks, healthcare, multi-family housing, franchises, hotels, office buildings, government centers and more.
Let's Make a Deal
Brothers Fire & Security genuinely cares about your business and your employees. We want to make sure everyone is certified and prepared to handle any fire emergency. To help, when you become a new customer or upgrade your services, we're happy to issue coupons for FREE fire extinguisher training courses. (I know how much everyone love coupons!) We'll also give special discounts for additional volume purchases of the course, and six months free fire and security monitoring. Open a new world of possibilities when you migrate your life safety services over to Brothers Fire & Security. We'll evaluate your unique needs so you can bundle and save, and as a thank you, we'll set up the fire extinguisher training for some of your staff.
Call us at 800-607-2767 for more information about how to get your free access to our "How to Effectively Use Fire Extinguishers" online course.
About Brothers Fire & Security
As one of the premier providers of fire and security solutions in the Upper Midwest, Brothers Fire & Security strives to build long-term, value-added relationships. We work with business owners and property management companies, as well as all types of public institutions to solve fire and security needs. By taking advantage of our integrated bundled services, many of our clients find that they can save 25-30% on their safety services, annual inspections and more. From a single location to franchises throughout the region and the country, our integrated approach saves our clients valuable time, money, and stress. We provide fire protection systems, security systems, fire sprinkler systems, fire alarm systems, 24-7 monitoring, fire extinguishers, card access and kitchen hoods. We also provide our Online Academy: Life Safety — Made Simple with eLearning courses designed to help you get and keep your staff trained and your business fire and security code compliant.