by Stephen Cieslukowski, President | Dec 1, 2020 | Blog Posts, News | 0 comments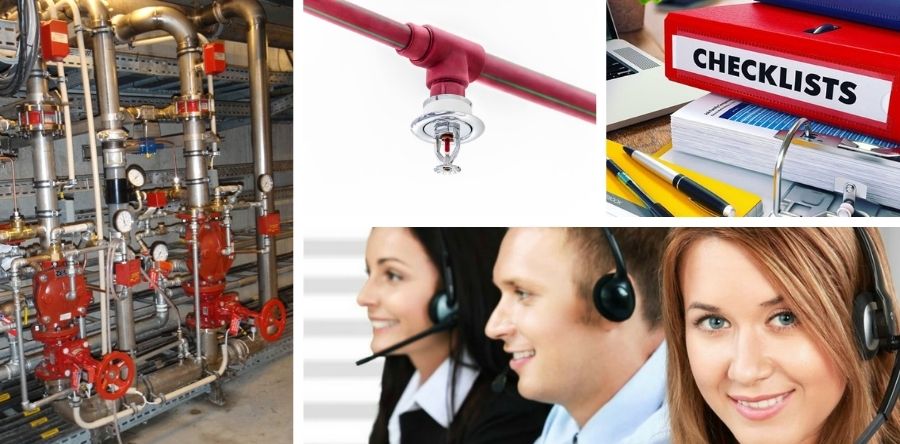 This blog begins a new series on fire and security case studies from the field. Over the years, we've run into a lot of real-life scenarios that illustrate how fire and security systems work effectively. My goal of the series is to tell you what you need to know and how to apply it to your business.
This first blog in the series is about the Automatic Extinguisher System (AES)—better known as sprinklers. Did you know that automatic fire extinguishers have been around since 1874? Today, fire sprinklers are used extensively worldwide, with over 40 million sprinkler heads installed. They are widely recognized as the single most effective method for fighting the spread of fires in their early stages before they can cause severe injury to people and damage to property.
The latest statistics from the National Fire Prevention Association and American Fire Sprinklers Association confirm that effectiveness:
Sprinklers operated in 92 percent of the fires that were large enough to activate them. Of those fires, sprinklers were effective at controlling 96 percent of the fires.
Flame damage was confined to the room of origin in 96 percent of fires compared to 71 percent of fires without AES.
The average loss per fire in sprinklered properties is 34-68 percent lower.
A study conducted during 80 years of automatic sprinkler use found that 90 percent of all fires are controlled with six or fewer heads. Eighty-two percent of fires were controlled by two or fewer sprinkler heads.
Water damage from a building sprinkler system will be much less severe than the damage caused by water from fire-fighting hose lines, or smoke and fire damage if the fire is allowed to spread. Quick response sprinklers release 8-24 gallons of water per minute compared to 80-125 gallons per minute discharged by high-pressure fire hoses.
A Success Story
Recently, a BFS-installed fire sprinkler system in a multi-family housing complex with over 300 units successfully did its job. A kitchen fire started around dinnertime in one of the units. The sprinkler head in the kitchen above the stove deployed and immediately put out the fire.
Putting out the fire wasn't the end of the story. Reese Schritz, one of Brothers Fire & Security's highly experienced and licensed service technicians, responded quickly. He immediately went to the scene to inspect the damage and replace the sprinkler head.
"Fires can happen at any time of the day or night," he said. "Without sprinkler systems, all kinds of fires, including kitchen grease fires, can quickly get out of control. Fortunately, there was no smoke damage and very little water damage to the unit, and most importantly, no loss of life."
Lesson Learned: Buildings with properly working sprinklers systems and heads save lives and save property damage.
How Sprinklers Work
Simply speaking, a sprinkler system consists of a water supply system that provides adequate pressure and flowrate in a piping system where sprinkler heads are connected. Each individual sprinkler is designed and calibrated to activate only during the heat from a fire (155-165° F). Most fires trigger the sprinkler heads above where the fire is and slow down the fire enough to minimize damage and prevent serious injuries until the firefighters get there. Typically, only the sprinkler closest to the fire will activate, spraying water directly on the fire, leaving the rest of the structure dry and secure. They do not operate in response to an activating smoke alarm, smoke, burned toast, cooking vapors, or steam.
Fire sprinkler systems are designed based upon the occupancy of the building and what is being stored in the building. The greater the potential for fire and the greater the intensity of such fire and the fuel supplying it, the more robust the system designed and installed would be. Newer buildings are usually built with sprinkler systems. Some older buildings are without sprinklers heads and fire can destroy them quickly, also impacting people's lives.
Life Safety Impacts Everyone
Brothers Fire & Security is committed to serve our community and empower people through access to ongoing life safety education. You can learn more about fire and security on our blogs at www.brothersfireandsecurity.com/blogs.
We also offer a new online academy, Life Safety Made Simple. These eLearning courses provide convenient staff training and certifying based on your needs and when you need it. Check out the academy at www.lifesafetymadesimple.com.
About Brothers Fire & Security
As one of the premier providers of fire and security solutions in the Upper Midwest, Brothers Fire & Security strives to build long-term, value-added relationships. We work with business owners and property management companies, as well as all types of public institutions to solve fire and security needs. By taking advantage of our integrated bundled services, many of our clients find that they can save 25-30% on their safety services, annual inspections and more. From a single location to franchises throughout the region and the country, our integrated approach saves our clients valuable time, money, and stress. We provide fire protection systems, security systems, fire sprinkler systems, fire alarm systems, 24-7 monitoring, fire extinguishers, card access and kitchen hoods. We also provide our Online Academy: Life Safety — Made Simple with eLearning courses designed to help you get and keep your staff trained and your business fire and security code compliant.