by Brothers Fire & Security | Dec 1, 2022 | Fire System | 2 comments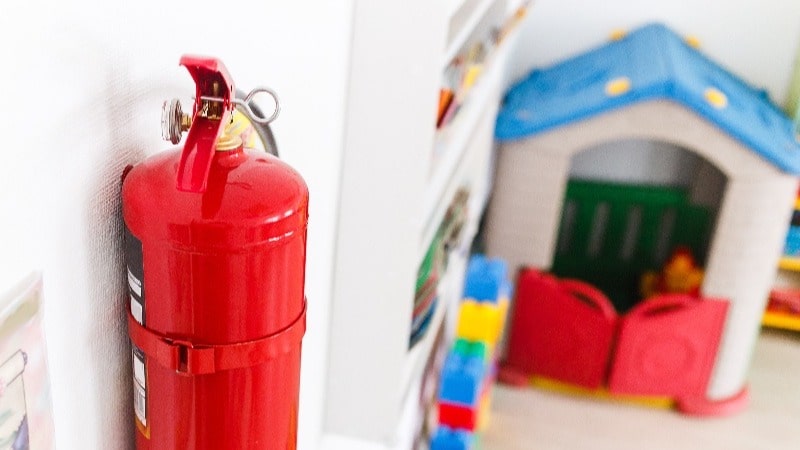 On any given week in the United States, over 11 million children younger than age five are in some type of childcare arrangement. On average, these children can be spending anywhere from 15-36 hours a week in childcare. It's their second home, so it must be protected from all harm, which includes fire and smoke.
No matter the number of children and/or sites, daycares must meet minimum safety requirements as mandated by the National Fire Protection Association (NFPA) code and state laws. Among them are fire extinguishers.
Fire Extinguisher Accessibility
Fire extinguishers are your basic fire safety tool, yet they go a long way to prevent greater loss if a fire does occur. The U.S. Fire Administration says that in daycares and preschools, 73% of fires are caused by cooking, 6% are caused by heating, and 5% by an electrical malfunction. That is why it is critical to have a mounted fire extinguisher accessible and located in conspicuous locations where they are immediately available for use.
Safety codes require at least one portable fire extinguisher within 75 feet of occupied areas, plus laundry rooms, boiler and furnace rooms, mechanical and electrical rooms, garages, kitchens, janitor closets, trash collection rooms, storage rooms, and similar areas. It seems obvious, but you should never need to travel to another floor to get an extinguisher!
Types of Fire Extinguishers
There are three main types of fire extinguishers, water, chemical, and carbon dioxide. Depending on the services offered at a daycare or preschool, a variety of types might be necessary to have on hand. Of course, a fire sprinkler system is an additional mode to extinguish a fire and is required to be installed in daycares/preschools that share another occupancy type. The following chart expands on the types of extinguishers used per fire class.
Class of Fire

Type of Fire Extinguisher to Use

Class A:

The fuel source involves everyday combustible materials such as wood, paper, trash, plastics, and vegetation.

ABC dry chemical extinguishers

Pressurized water

Class B:

These fires comprise flammable liquids like oil, grease, gasoline, and paint.

ABC dry chemical

BC dry chemical

Carbon dioxide

Class C:

Appear on energized electrical equipment like electrical wiring

ABC dry chemical

BC dry chemical

Carbon dioxide

Class D:

Involve combustible metals like zirconium, titanium, magnesium, and potassium.

Class K:

Cover cooking oils and fats

K extinguishers (for kitchen)
Fire Extinguisher Training
Class A and Class K extinguishers are the most likely to be used in a daycare setting. However, fire extinguisher requirements and types mean nothing if no one knows how to properly and effectively use one. Did you know that OSHA requires fire extinguisher training for all employees at least once a year? Proper training needs to be more than a five-minute demonstration by a skilled trainer. Not everyone is mechanically minded so training needs to take a hospitable, straightforward approach. Employers need to consider the number of people who need training, properly use group training time and the expense of in-person training.
Regardless of the instruction method, what is covered does not waver and includes more fire safety information outside of using an extinguisher. Training can include;
learning how to outline a fire prevention plan
discussing the different types of fires and the various methods of extinguishing them
practicing how to use an extinguisher
implementing a safe evacuation plan
understanding how to keep your daycare in compliance with laws and regulations
If you have any questions on how to select the right kind of extinguisher or how to use one, give us a call! We would be more than happy to walk you through the correct operational steps.
ABOUT BROTHERS FIRE & SECURITY
As one of the premier providers of fire and security solutions in the Upper Midwest, Brothers Fire & Security strives to build long-term, value-added relationships. We work with business owners and property management companies, as well as all types of public institutions to solve fire and security needs. By taking advantage of our integrated bundled services, many of our clients find that they can save 25-30% on their safety services, annual inspections, and more. From a single location to franchises throughout the region and the country, our integrated approach saves our clients valuable time, money and stress. We provide fire protection systems, security systems, fire sprinkler systems, fire alarm systems, 24-7 monitoring, fire extinguishers, card access and kitchen hoods.