by Stephen Cieslukowski, President | Mar 1, 2021 | Blog Posts, News | 0 comments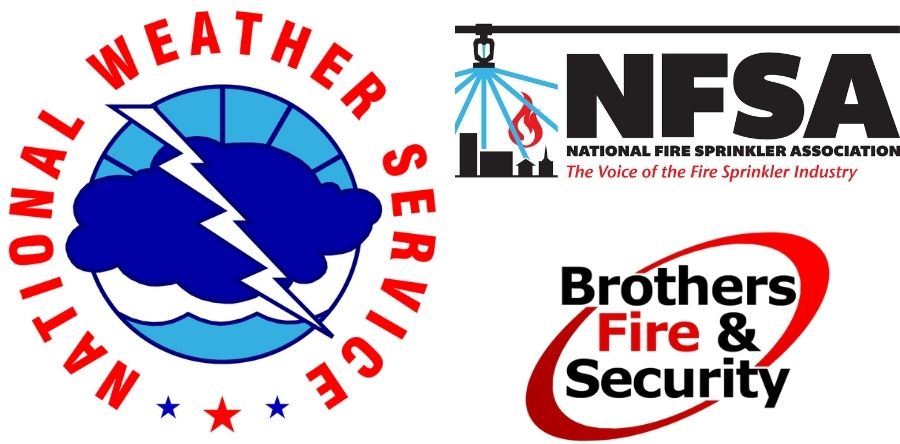 Mother Nature has been on a path of destruction this winter from Texas to the Midwest to the Carolinas. Weather patterns turned downright brutal in February. Relentless snow and ice storms, severely colder than normal temps, below-zero temps, and tornadoes overwhelmed millions of people and caused billions of dollars in damage.
The wrath of the 2021 Big Chill unleashed in Texas was documented in broadcast and social media. Who can forget images of snapped power lines covered in thick ice, impassable interstates, ice hanging from faucets and snow on a Galveston Beach?
Among the property casualties were sprinkler systems and frozen pipes. In one case, a sprinkler system at an Austin, Texas school froze and exploded at the entrance of the building. Frigid waters cascaded into the administrative offices and down the main hallway. Water seeped into the carpets and in between the tiled flooring..
So why did some sprinklers systems fail in the Big Chill? To explain why, I'm partnering with the National Fire Sprinkler Association (NFSA) for this blog. Brothers Fire & Security has been a member of this organization for over 20 years.
NFSA's mission is to protect lives and property from fire through the wide-spread acceptance of the fire sprinkler concept. The organization works closely with state and local lawmakers to pass legislation to make homes and businesses safer. NFSA collaborates with the Home Fire Sprinkler Coalition and several other grassroots organizations. Its diverse team of fire officials, contractors, engineers, attorneys, and tradespeople pulls from a vast variety of skills and experiences. With such credentials and expertise, NFSA is the "go-to" resource as we explore what happened with the Big Chill and what we can do when it happens again—or better yet, prevent it.
It's All About the Frost Line
Location of the frost line contributed to the damage at the school in Texas, and thousands of homes and businesses in Texas and other southern states, the frost line https://www.hammerpedia.com/frost-line-map is the depth at which the ground freezes and is determined by National Weather Service. Frost lines differ throughout the country. Here in Minnesota, the line ranges from 70 inches along Interstate 90 to 100 inches in Lake of the Woods. In contrast, the line in Texas is 5-20 inches.
When cold weather changes water from liquid to solid, it expands 9% in volume. Because of this, it's important that the footings for a building or a deck be placed below the frost line so the posts don't shift as the ground freezes and thaws. Water and sewer pipe also need to buried below the frost depth. As the frost line goes deeper, frost heave can be detrimental to footings, foundations, pipes and sewers. Which is exactly what happened in Texas last month.
Lessons Learned from the Big Chill
Given the February Deep Freeze and extreme weather patterns throughout the country, the current frost lines for Texas and other southern states may not be deep enough anymore. It's time to reevaluate the frost line requirements and building codes. While one event may or may not justify this, frost depths for mains are established by NFPA 13 and NFPA 24. These installation standards require fire service mains to be another 12 in. deeper than the published frost depths.
Building codes are evaluated and adopted by the International Building Code (IBC) and International Code Council (ICC). The ICC writes and publishes codes, such as the IBC. State and local jurisdictions evaluate and adopt. For example MN adopts the IBC and enforces it. The IBC relies on data from the National Weather Service. Most construction companies and Authorities Having Jurisdiction (AHJ) go with the IBC as the minimum standard to determine how deep to bury sprinkler system pipes. Fire service lines depths for fire sprinkler systems come from NFPA 13 and NFPA 24.
The IBC is a building code that references NFPA 13. Building codes are minimum laws, yet there are forces at work that challenge building codes:
Science and scientists who track the issues and building codes.
Contractors who push back because it costs more to dig deeper.
Some companies, like large hotel chains, have their own code requirements.
Insurance companies sometimes have their own standards that go beyond the IBC.
Sprinkler System Check List
While it's up to industry experts to reevaluate building codes, there are steps you can take to prevent sprinkler system cold weather problems. Big Chill 2021 may be behind us (we hope!), but I encourage you to check your sprinkler systems now to prevent problems later.
Will your sprinkler system fail during extreme stress conditions because you're asking it to perform above the normal load? Fire sprinklers perform their best in extreme conditions
Do you know where your backflow preventer (BFP) is located? Inside or outside? In northern states like Minnesota, Wisconsin and the Dakotas, the RPV is usually housed inside buildings because temperatures are generally much colder longer. In southern states like Florida, Texas and California, RPVs are typically housed outside. February's temperatures in the south created major issues for many commercial systems where the BFP were outside.
At any onset of cold weather, make sure that your valve rooms have proper heat and the heating elements have been recently checked and serviced.
Use heat tape in a temperature emergency. The IBC, NFPA 13, NFPA 14, NFPA 20, NFPA 25 requirements are to maintain the area temperature to 40 degrees.
Check your local building codes to determine the proper depth below the frost line building footings should sit.
Keep sprinkler systems up to date with scheduled service calls and inspections to spot any issues that need to be addressed. Brothers Fire & Security can help you with that.
If you have concerns about the sprinkler system, the first step is to identify any breaks. Look for leaks on the pipes and the surrounding area. If you don't see any leaks, hire a reputable sprinkler contractor in your area to review the system. Check out the member list on NFSA.org. (Brothers Fire & Security is on the list!) Use a licensed NFSA member contractor for service or repairs. Utilize all the sprinkler system resources available on nfsa.org and the Brothers Fire & Security blog. You can also give us a call if you have any questions or concerns at 800-607-2767.
I don't know about you, but I sure hope the spring thaw comes early this year!
About Brothers Fire & Security
As one of the premier providers of fire and security solutions in the Upper Midwest, Brothers Fire & Security strives to build long-term, value-added relationships. We work with business owners and property management companies, as well as all types of public institutions to solve fire and security needs. By taking advantage of our integrated bundled services, many of our clients find that they can save 25-30% on their safety services, annual inspections and more. From a single location to franchises throughout the region and the country, our integrated approach saves our clients valuable time, money, and stress. We provide fire protection systems, security systems, fire sprinkler systems, fire alarm systems, 24-7 monitoring, fire extinguishers, card access and kitchen hoods. We also provide our Online Academy: Life Safety — Made Simple with eLearning courses designed to help you get and keep your staff trained and your business fire and security code compliant.