by Stephen Cieslukowski, President | Jan 4, 2021 | Blog Posts, News | 0 comments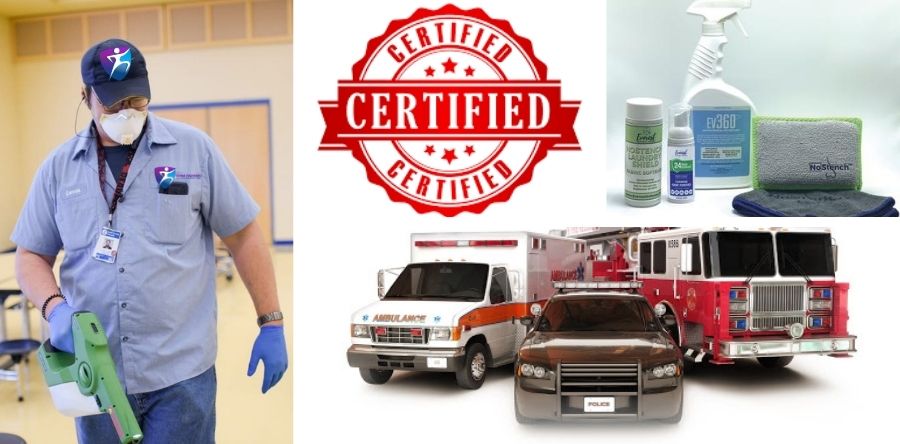 Happy New Year! Here's hoping that 2021 sees vast improvements when it comes to fighting germs and keeping people safer from pathogens and viruses.
We all have tremendous respect for the healthcare heroes on the frontline of the COVID-19 war: nurses, doctors, environmental staff in hospitals and clinics. Risks they take every day—even every hour on the job is both humbling and inspirational.
Heroes not to be overlooked are the EMTs, firefighters and police. These frontline essential workers encounter many kinds of situations when responding to fires, rescues, accidents, and crime scenes. However, masks, constant hand-washing and social distancing are not always possible during an emergency.
In addition, first responders need to safeguard uniforms, helmets, face pieces, examination gloves, goggles and boots. Non-porous surfaces of ambulances, gurneys, radios, and other frequently touched surfaces or equipment must be disinfected. Buildings they are housed in, from city hall to fire stations, also need to be protected.
Unfortunately, but not surprisingly, COVID-19 outbreaks are happening in city halls, police departments and fire stations nationally and among Minnesota's 87 counties and 853 incorporated cities. In-person absentee voting at the city hall in Monticello, Minnesota, was closed in October due to positive COVID-19 tests among the staff. An entire fire department in Washington State had to be quarantined. A city hall in Mississippi closed for cleaning when an employee tested positive. And many cities in Minnesota are dealing with COVID-related closings, as well.
Doing More to Fight the COVID Battle and to Keep People Safer
Clearly, more than the standard protocol needs to be done to effectively combat the far-reaching spread of COVID-19. That's where a breakthrough germ-fighting technology is making a huge impact. Brothers Fire & Security is proud to be a part of this with its partner, Germ Fighters USA, an environmental technology company based in the Twin Cities.
My recent blogs have focused on the science Germ Fighters USA uses — EV360, by BIOPROTECT. To drive home the facts that this process works, let's recap.
EV360 is an EPA-approved antimicrobial surface protectant. It's highly effective in destroying COVID, bacteria, mold, viruses, or other microbes. EV360 keeps both porous and non-porous surfaces up to 99.99 percent pathogen free for 90 days. 24-hour Defense™ Foaming Hand Purifier safely kills 99.99 percent of germs and keeps on killing new germs for up to 24 hours. Just as important, it remains effective through repeated hand washings. Both products are chemical-free and water-based.
The EPA, FDA and NSF (National Science Foundation) have tested EV360. All three have documented that EV360 works well and is safe, even in a food environment. It's also safety-approved for pets and people of all ages and health histories.
Germ Fighters USA Case Study
With recent events, many cities and their emergency services are authorizing the treatment of all surfaces with EV360. Recently, one of these cities was Inver Grove Heights, Minnesota. The city offices had three confirmed cases of COVID-19 in one day. They shut down city hall and reached out to Germ Fighters USA for help.
Originally, city administration asked for service at only city hall and the police station, a total of 64,000 square feet. Germ Fighters USA offered service to all the police cars and fire trucks at no charge in a gesture of gratitude to first responders. After viewing a demonstration video, getting answers to a lot of their questions, and reviewing additional material, the city decided to apply EV360 at other facilities for a total of 288,000 square feet.
Beyond Minnesota, EV360 has been used by Madison, Wisconsin's 14 fire stations. The Lower Gwynedd Township Police Department in Pennsylvania applied EV360 to over 10,000 sq. ft. of space, including township municipal buildings, the police department, six police vehicles and 12 township work vehicles.
Summed up, the teamwork of Brothers Fire & Security, Germ Fighters USA and BIOPROTECT can assure you that your facilities, from desks and offices to large rooms and vehicles—and even the hands that serve the public and save lives in emergency situations—are safeguarded against deadly pathogens.
The Good News for Communities
While we're showcasing the case study for cities and emergency workers and systems, the breakthrough technology can help everyone in our communities. For example, Germ Fighters USA is serving senior living communities, restaurants, schools, the transportation industry, and even residential customers, to name just a few.
For more information or to schedule a free demonstration by Germ Fighters, click here or call 612-502-3590. The FREE demo will show you how the process works, how it can reduce your cleanings and increase levels of safety and confidence. Please mention Brothers Fire & Security when you contact Germ Fighters USA.
About Brothers Fire & Security
As one of the premier providers of fire and security solutions in the Upper Midwest, Brothers Fire & Security strives to build long-term, value-added relationships. We work with business owners and property management companies, as well as all types of public institutions to solve fire and security needs. By taking advantage of our integrated bundled services, many of our clients find that they can save 25-30% on their safety services, annual inspections and more. From a single location to franchises throughout the region and the country, our integrated approach saves our clients valuable time, money, and stress. We provide fire protection systems, security systems, fire sprinkler systems, fire alarm systems, 24-7 monitoring, fire extinguishers, card access and kitchen hoods. We also provide our Online Academy: Life Safety — Made Simple with eLearning courses designed to help you get and keep your staff trained and your business fire and security code compliant.