by Stephen Cieslukowski, President | Apr 1, 2021 | Blog Posts, News | 0 comments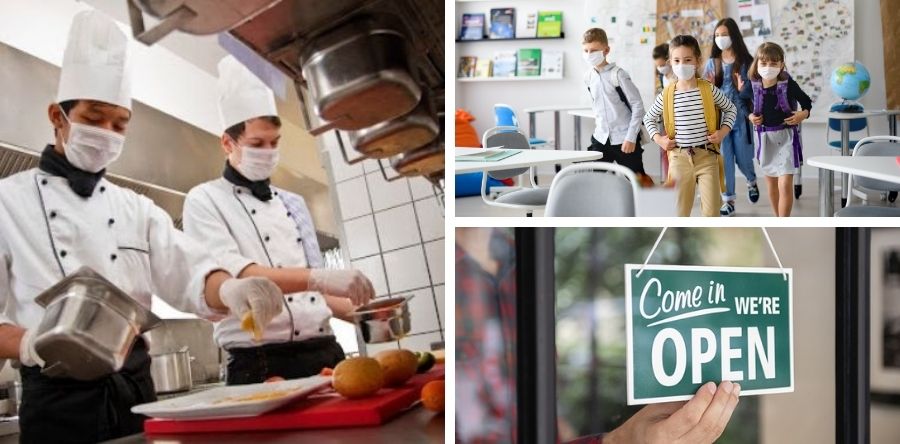 Excitement is in the air as life begins to get back to normal. It feels like we've been under a spell for a year that plunged us into the COVID fog. The spell is fading and the sky is clearing.
Here in Minnesota, doors opened even wider this month at dine-in restaurants, indoor and outdoor gatherings, sports, religious services and entertainment as restrictions have been lifted or greatly relaxed. Here's a breakdown on some of the changes.
Indoor and outdoor dining capacity in bars and restaurants increased to 75 percent (250 people max).
Indoor events and entertainment venues ramped up to 50 percent capacity (250 people max). Venues with indoor seated capacity over 500 increased an additional 15 percent (3,000 max). Non-seated venues increased an additional 10 percent (1,500 max).
Outdoor venues may operate with an additional 25 percent of the occupant capacity above 500 (10,000 max). Non-seated outdoor venues may operate with an additional 15 percent of the capacity above 500 (10,000 max).
Youth and adult sports can have spectators based on venue capacity.
Indoor social gatherings increased to 15 people, and outdoor gatherings to 50 people.
Religious services opened to 100 percent capacity.
Weddings and funerals can have full capacity. Receptions must follow the venue guidelines.
Personal services (salons, tattoos, barbershops) can now operate at 100 percent capacity.
We can now make plans for boat cruises and bus tours, get together with family and friends, take part in fun runs, attend concerts, work out at the gym, go to water parks and pools and relax at the spa. The Twins will welcome up to 10,000 fans at Target Field, beginning with its April 8 home opener. Valleyfair opens May 22 and Soak City opens May 29. Plans are moving full-steam ahead for the Minnesota State Fair Aug. 26-Sept. 6.
Just keep those masks on, social distance and follow guidelines on hygiene and attendance. For more details check out the Minnesota's Stay Safe site.
Open – Safely
While the attention on reopening Minnesota has focused on the health aspect, we can't overlook building safety for employees and customers at thousands of businesses in the state.
Many buildings have been closed for months, so fire and security systems need to be inspected, serviced and brought up to code. New staff may be coming on board, which means they need training on safety plans, and returning staff probably need a refresher course. With all the personnel and work schedule changes, building and office access codes should be updated.
Kitchen hoods need to be cleaned and certified. Some restaurants have installed new air filtration and circulation technology. The bonus is they decrease the amount of grease that goes in the hood. This technology has helped Brothers Fire & Security's hood cleaning servicing by making cleanup easier and safer.
Fire extinguishers have been hanging undisturbed on walls for over a year, so they need to be serviced, inspected and tagged. Make sure they are positioned every 75 feet of travel. All employees should know how to use fire extinguishers. Brothers Fire & Security offers affordable fire extinguisher training on its online academy, Life Safety — Made Simple. Training includes the correct way to use different kinds of fire extinguishers, firefighting concepts, and understanding life-saving steps to take when there's a fire. Employees who complete the course are certified and training meets OSHA compliance requirements.
Fighting Germs
We're always going to be dealing with viruses and other biohazards, so I recommend businesses invest in the latest germ-fighting technology. Brothers Fire & Security partners with Everest Microbial Defense™. They use EV360™, an antimicrobial technology that tests, disinfects and protects surfaces for up 90 days.
EV360™ is applied to all types of surfaces by an electrostatic sprayer and forms a durable and consistent bond with all surfaces. The coating becomes part of the surface, creating a field of nanospikes that mechanically kills bacteria, mold, viruses, or other microbes that come in contact with the surfaces. EV360™ is registered with the EPA, and is a safe, water-based coating.
Everest also has a hand purifier that kills 99.99 percent of germs and keeps them away up to 24 hours through hand washings. It's safe for children and adults, maintains skin's natural PH, has no gel residues, alcohol or fragrance, and is more economical than traditional alcohol-based products.
Yes, that sounds like a lot of prep for "business as usual," but Brothers Fire & Security can help you check off those issues. Give us a call at 800-607-2767 and we'll guide you through steps to successful reopening. We'll even evaluate your current fire and security systems to make sure you're getting the most bang for your buck.
About Brothers Fire & Security
As one of the premier providers of fire and security solutions in the Upper Midwest, Brothers Fire & Security strives to build long-term, value-added relationships. We work with business owners and property management companies, as well as all types of public institutions to solve fire and security needs. By taking advantage of our integrated bundled services, many of our clients find that they can save 25-30% on their safety services, annual inspections and more. From a single location to franchises throughout the region and the country, our integrated approach saves our clients valuable time, money, and stress. We provide fire protection systems, security systems, fire sprinkler systems, fire alarm systems, 24-7 monitoring, fire extinguishers, card access and kitchen hoods. We also provide our Online Academy: Life Safety — Made Simple with eLearning courses designed to help you get and keep your staff trained and your business fire and security code compliant.