by Stephen Cieslukowski, President | Apr 15, 2021 | Blog Posts, News | 0 comments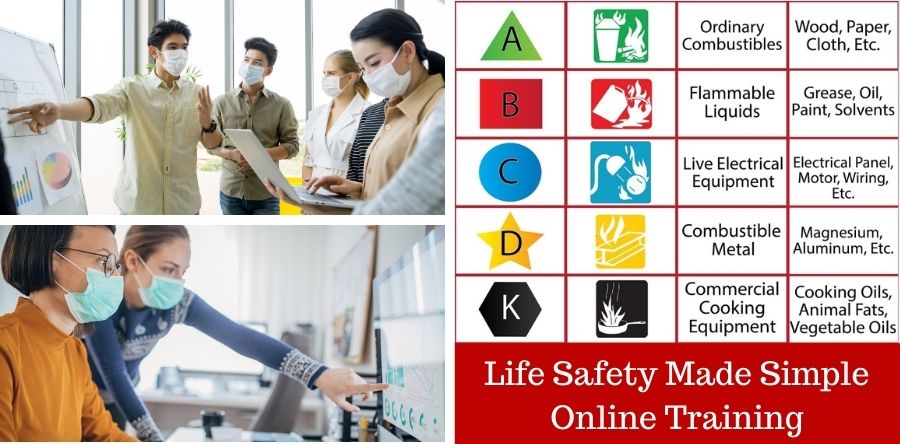 Perhaps you've seen the "funniest home (office) videos" on social media. Employees attend Zoom business meetings from their home dressed for the office from the waist up and dressed for the weekend from the waist down. Kids are spotted playing in the background, a cat strolls in front of a monitor.
But after working from home for a year due to COVID restrictions, many employees have been called back to the workplace. In addition to dusting off cubicles, restocking the break room and servicing computers that have been idle for months, there are important fire and security protocols to review and update to ensure the safety of employees and buildings.
Welcome Back Staff!
The crucial starting place in prepping for employee return is to make sure your life safety systems are inspected, up-to-code and compliant. Check your security cameras and positions to identify any changes and conditions. Have sprinkler systems inspected and serviced if necessary. Doors will need to be reprogrammed for hours of operation, who has access and when. As there may be new employees to process, card access systems will likely need to be updated.
Next, take a closer look at what safety plans you have in place in the event of an emergency. Questions to ask include:
Does your safety plan reflect the correct number of employees?
Is your safety and evacuation plan current?
Does everyone know what to do in an emergency? New employees need training and returning employees need a refresher course. I suggest staging a safety drill.
Who has access to the fire panels and sprinkler systems?
Do the right people know where your life safety equipment is located?
Have you designated leaders to take charge during an emergency?
Is there a designated person available at all times?
Fire Extinguishers: The First Line of Defense
Statistics on fire extinguishers illustrate their essential role in fire safety. Seventy-five percent of fires are limited to the object of origin when an extinguisher is used; 18 percent are limited to the room of origin; just eight percent go beyond the room of origin.
Accessibility to a fire extinguisher is key to limiting the scale of a fire. They should be mounted and located in conspicuous locations where they are immediately available for use. In fact, safety codes require at least one portable fire extinguisher within 75 feet of occupied areas. The question is, do all your employees—returning and new—know where all the fire extinguishers are located? Are they trained and certified on how to use fire extinguishers?
To ensure your employees are prepared, take advantage of Brothers Fire & Security's online training academy, Life Safety Made Simple. How to Effectively Use Fire Extinguishers is a convenient and affordable 30-minute course that certifies staff and meets OSHA compliance.
Protection against COVID
For over a year, businesses have been making adjustments to workspaces to comply with changing COVID requirements. First and foremost, businesses must have a COVID-19 preparedness plan. The Stay Safe Minnesota website features a comprehensive document to walk you through the requirements, as well as helpful resources.
Brothers Fire & Security can help your business meet the cleaning, disinfecting and hand hygiene requirements. We are partnering with Everest Microbial Defense to offer the latest antimicrobial technology. Everest uses EV360™, a breakthrough solution that tests, disinfects and protects surfaces for up 90 days.
EV360™ is applied to all types of surfaces by an electrostatic sprayer and forms a durable and consistent bond with all surfaces. The coating becomes part of the surface, creating a field of nanospikes that mechanically kills bacteria, mold, viruses, or other microbes that come into contact with the surfaces. EV360™ is registered with the EPA, and is a safe, water-based coating.
I also encourage you to install hand sanitizer stations throughout the building, especially in high traffic areas. Everest's hand purifier kills 99.99 percent of germs and keeps them away up to 24 hours even through hand washings. It's safe for children and adults, maintains skin's natural PH, has no gel residues, alcohol or fragrance, and is more economical than traditional alcohol-based products.
As we enter a new phase in the on-going fight against COVID, Brothers Fire & Security is ready, willing and able to help you welcome your employees back. Whether it's checking your sprinkler system, testing fire extinguishers or disinfecting your workplace, we're here for you. Give us a call at 800-607-2767.
About Brothers Fire & Security
As one of the premier providers of fire and security solutions in the Upper Midwest, Brothers Fire & Security strives to build long-term, value-added relationships. We work with business owners and property management companies, as well as all types of public institutions to solve fire and security needs. By taking advantage of our integrated bundled services, many of our clients find that they can save 25-30% on their safety services, annual inspections and more. From a single location to franchises throughout the region and the country, our integrated approach saves our clients valuable time, money, and stress. We provide fire protection systems, security systems, fire sprinkler systems, fire alarm systems, 24-7 monitoring, fire extinguishers, card access and kitchen hoods. We also provide our Online Academy: Life Safety — Made Simple with eLearning courses designed to help you get and keep your staff trained and your business fire and security code compliant.