by Stephen Cieslukowski, President | May 3, 2021 | Blog Posts, News | 0 comments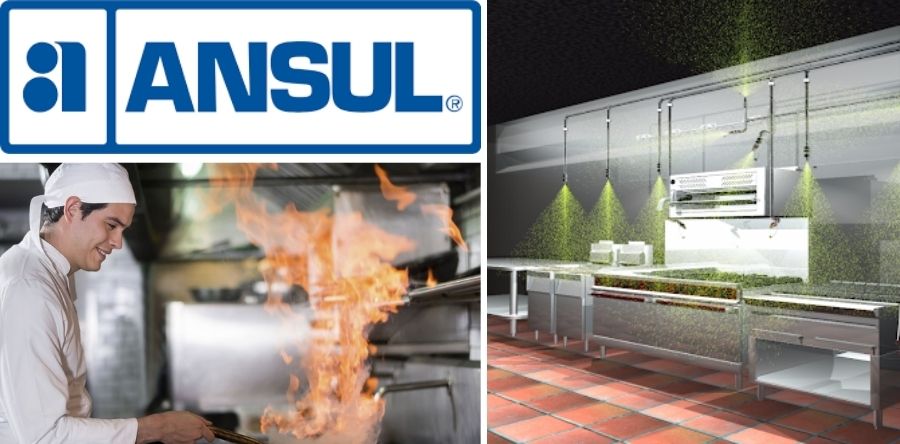 Brothers Fire & Security's ongoing commitment is to work with industry leaders that are investing in new technology. This commitment was strengthened during the pandemic as customers trusted us to protect their properties as their needs changed. Reflecting those needs, we added a partner to offer the latest in fire suppression technology. It's been a few years in the making, but I'm excited to announce that we are now an authorized ANSUL dealer.
ANSUL, based on Marinette, Wisconsin, has a long-held tradition of industrial excellence and advancement in fire protection. ANSUL got its start in 1915. Its name reflects its primary product back then, ANhydrous SULfur Dioxide, used in the mechanical refrigeration market. Fire protection products were introduced in 1939, featuring the first cartridge-operated, dry chemical fire extinguisher. ANSUL developed the first automatic fire suppression systems to protect restaurant cooking equipment and mining vehicles. One of its recent products is the first hybrid restaurant fire suppression system using wet chemical with water follow-up.
As technology and dangerous new hazards emerged, ANSUL's product engineers worked hand-in-hand with many industries to protect people and property from fire. Its products are tested under the scrutiny of national and independent testing laboratories and approval agencies. The ANSUL Fire Technology Center and Center for Excellence houses one of the most extensive fire research and testing facilities in the world.
ANSUL Fire Suppression Systems Provide More Protection
ANSUL takes fire suppression to the next level. Providing special hazard fire protection products that are designed and manufactured to strict standards, ANSUL's product line includes:
Hand-portable and wheeled fire extinguishers
Large self-contained handline units
Pre-engineered restaurant, vehicle and industrial systems
Sophisticated engineered fire detection and suppression systems
Complete line of dry chemical, foam and gaseous cleaning agents
Hazardous chemical spill control and vapor-mitigating agents
As an authorized ANSUL dealer, Brothers Fire & Security has strengthened our fire and security services to all the industries we serve including restaurants, the hospitality industry, hotels, multi-family housing and senior living communities. Bottom line: Brothers Fire & Security installs more protection for your business.
ANSUL Affiliation with Johnson Controls
Our confidence in ANSUL and its products also comes from its brand affiliation with Johnson Controls. Since 1885 Johnson Controls has made buildings smarter, which makes them safer, more comfortable, more efficient and more sustainable.
Their history is rich and began when founder Warren Johnson patented a building temperature-control device. A little later came the first automatic zone temperature control system and a furnace draft regulator. In 1955, Johnson Controls installed critical temperature-regulating apparatus in rooms where the polio vaccine was being developed. Its critical role in fire suppression was used when terrorists crashed a jetliner into the U.S. Pentagon on 9/11. A building operations control center installed two months earlier enabled dampers to be closed to contain fire and smoke, potentially limiting further casualties.
It's no wonder that today Johnson Controls offers the world's largest portfolio of building products, technologies, software, and services. Their full range of innovative systems and digital solutions transforms the environments where people live, work, learn and play. That's why Brothers Fire & Security is pleased to work with ANSUL and Johnson Controls. We want to ensure our clients get the best all three of our companies and brands have to offer.
About Brothers Fire & Security
As one of the premier providers of fire and security solutions in the Upper Midwest, Brothers Fire & Security strives to build long-term, value-added relationships. We work with business owners and property management companies, as well as all types of public institutions to solve fire and security needs. By taking advantage of our integrated bundled services, many of our clients find that they can save 25-30% on their safety services, annual inspections and more. From a single location to franchises throughout the region and the country, our integrated approach saves our clients valuable time, money, and stress. We provide fire protection systems, security systems, fire sprinkler systems, fire alarm systems, 24-7 monitoring, fire extinguishers, card access and kitchen hoods. We also provide our Online Academy: Life Safety — Made Simple with eLearning courses designed to help you get and keep your staff trained and your business fire and security code compliant.