by Stephen Cieslukowski, President | May 17, 2021 | Blog Posts, News | 0 comments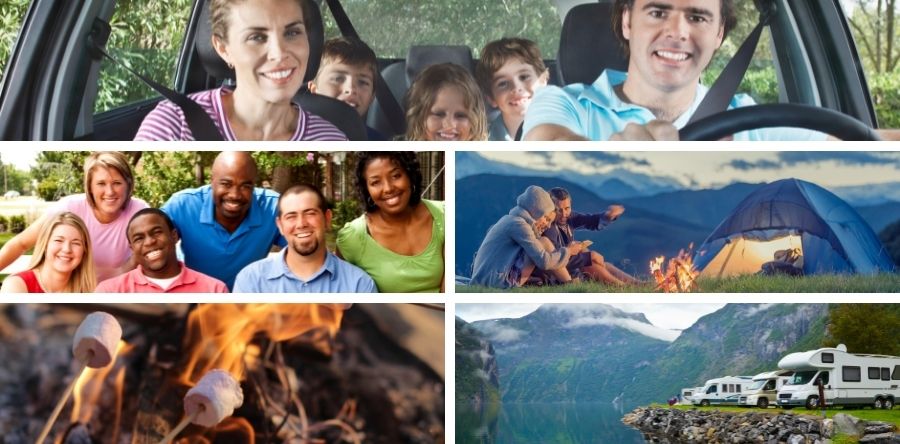 Go ahead, admit it. The COVID year has been tough. Really tough. After the isolation, economic impact of the shutdowns, and concerns for the health of loved ones, we just want our lives back to normal.
Life is looking up as summer approaches. Minnesotans are planning trips to the family cabin or campground, revving up the RV or boat, grilling steaks in the backyard, roasting s'mores around the fire pit, and taking family vacations—with the kids fighting in the back seat. (Can anyone relate to that?)
With all those summertime adventures come hazards. Thinking "Safety First" makes all the difference to ensure a safe, fun, carefree and memorable summer. You'd much rather post social media selfies in front of Mount Rushmore or with a walleye at the end of the fishing pole. No one wants to see your selfie in the ER being treated for a burn or a video of the family RV in flames.
Firing Up the Barbie Safely
Seventy percent of adults have a grill or smoker, according to the National Fire and Protection Association (NFPA). Although they are one of the perks of a Minnesota summer, they must be watched closely. The NFPA reports 8,900 home fires involving grills, hibachis or barbecues annually; 19,700 patients end up in emergency rooms. Children under five account for 39 percent of the contact-type burns per year.
To make sure your BBQ is enjoyable, and the burger—and deck—don't end up in ashes, keep these safety considerations in mind.
Propane and charcoal BBQ grills should only be used outdoors.
The grill should be placed well away from the home, deck railings and out from under eaves and overhanging branches.
Keep children and pets at least three feet away from the grill area.
Keep your grill clean by removing grease or fat buildup from the grills and in trays below the grill.
Never leave your grill unattended.
Always make sure your gas grill lid is open before lighting it.
When you're finished grilling, let the coals completely cool before disposing in a metal container
Keep a fire extinguisher close by just in case..
An Evening Around the Campfire
Minnesotans love to go camping. The Department of Natural Resources reports 1.1 million vacation at a campground each year. One of highlights is sitting around the fire pit roasting marshmallows. However, campfires are the nation's leading cause of children's camping injuries. At least 5,300 injuries related to fire pits were treated at emergency rooms in the U.S. in 2017; 25 percent under age five, according to the Consumer Products Safety Commission.
These tips will ensure no one is hurt, or property is damaged:
Never leave a campfire unattended.
An adult should supervise the campfire at all times.
Keep a bucket of water and shovel nearby.
Have a fire extinguisher handy.
Never put anything but wood into the fire.
Do not pull sticks out of the fire.
Do not sit on the fire ring or rocks around the campfire.
Extinguishing a campfire is crucial. First, drown the campfire with water. Stir the embers after they are covered with water and make sure that everything is wet. Mix the ashes and embers with soil. Scrape all partially burned sticks and logs to make sure all the hot embers are off them. Everything (including the rock fire ring) should be cool to the touch. Feel under the rocks to make sure no embers are underneath. Remember, if it's too hot to touch, it is too hot to leave.
Safety on Lakes and Rivers
Statista estimates 814,000 boats will be put on the water in Minnesota this year. That's second only to Florida's 963,000! That stat surprised me, but with over 10,000 lakes, and 6,564 natural rivers and streams flowing a total of 69,000 miles, it stands to reason.
To safeguard a boating excursion:
Have a fully charged 5 or 10 lb. fire extinguisher on board and that all the adults know how to use it.
Check the fuel line from the motor to the gas source for leaks.
Have the right-sized life jackets on board that fit every person.
Keep flares handy in case of emergency at night.
Test to make sure all the brake and turn signals work on the trailer.
Make sure all your permits are up to date.
Cabin Sweet Cabin
The Minnesota Department reports 124,000 seasonal cabins are in the state, which is evident every summer Friday night when the highways are clogged with vehicles "heading north." Cabins have their own safety concerns, so here are suggestions for your next trip.
Clean brush and debris away from the cabin.
Make sure you have a fully charged 10 lb. fire extinguisher in the cabin and that all the adults know how to use it.
Inspect all fire and CO detectors so they are operational.
Check the propane tank, if there is one, to make sure it's working properly.
Check the outside for adequate lighting.
Revving Up the RV
The RV industry boomed during the pandemic as vacation hotspots closed or were restricted. RVs enabled social distancing when traveling and were a relaxing getaway from the stress of the pandemic. The Recreational Vehicle Industry Association reported 424,400 units were sold in 2020, a 4.3 percent increase from 2019—despite being shut down for nearly two months because of COVID-19. The 2021 outlook calls for a 19.5 percent surge to 507,200 units.
With the growth of RV use, first-time buyers need to know RVs have their own fire safety considerations. Fire is one of the leading causes of RV loss in the U.S. The NFPA estimates that 20,000 RV fires occur annually. Here's advice to ensure your RV trip is safe every time you hit the road:
Have three fire extinguishers for your RV: one in the kitchen, one in the bedroom, and one outside in an unlocked compartment or in your tow vehicle. Make sure every traveler knows where they are located and how to use them.
Have at least two escape routes and an escape plan. Practice it with your travelers.
Make sure all travelers can open the front door, hatches, and emergency exits.
Test your smoke detector.
Ensure that your RV's carbon monoxide and propane detectors are properly located and functioning.
Check the power cord connecting your RV to a campground's electricity supply. It needs to be in good condition and of suitable gauge wire to handle the electrical load. Replace damaged cords immediately.
Bouncing down the road can loosen electrical connections, which can produce heat, and in turn, fire. Tighten them before your trip.
Check all 12-volt connections before every trip. Many RV fires are caused by a 12-volt short.
Leaking fluids in the engine compartment can ignite. During your pre-trip inspection, check all hoses for firmness, clamp tightness, and signs of leaking.
Road Tripping
Forty percent of families (100 million people) plan at least one vacation a year. Road trips are the most popular, but they can be stressful. Preparing for a road trip begins with a vehicle checkup.
Test the car's battery, hoses and belts.
Check each tire's tread depth, inflation and overall condition.
Flush the cooling system and use manufacturer-recommended coolant.
Check the vehicles' transmission, power steering, windshield wiper fluids, and air conditioner.
Make sure all brake lights, headlights, turn signals, emergency flashers and interior lights are working.
Take special care of smart keys and keyless entry fobs. Always take them with you when exiting the car. Avoid exposing them to water and replace batteries as recommended by vehicle manufacturers.
Important items to carry include:

Mobile phone charger
Flashlight with extra batteries
First aid kit
Drinking water, extra snacks and food
Booster cables
Emergency flares or reflectors
Windshield wiper fluid
A basic toolkit with a tire pressure gauge and adjustable wrench

Don't leave food or drinks inside your car on a hot day, especially canned beverages, which can explode under high temperatures. The same goes for hairspray or canned deodorant.
Know your route. Most drivers rely on GPS devices. However, be prepared in case your device malfunctions and carry a road map or atlas. (You know, the paper version of Google Maps that's almost impossible to refold.)
Vacation scheduling at home and the office should also be considered. Put inside lighting on a timer so it looks like people are home. Check your access codes and times at your business to make sure that ONLY authorized people have access to your business.
Those of us at Brothers Fire & Security wish you a safe, fun, and memorable summer. Let's put the pandemic behind us and look ahead to family time on lakes, at campgrounds, on road trips and in our own backyards.
About Brothers Fire & Security
As one of the premier providers of fire and security solutions in the Upper Midwest, Brothers Fire & Security strives to build long-term, value-added relationships. We work with business owners and property management companies, as well as all types of public institutions to solve fire and security needs. By taking advantage of our integrated bundled services, many of our clients find that they can save 25-30% on their safety services, annual inspections and more. From a single location to franchises throughout the region and the country, our integrated approach saves our clients valuable time, money, and stress. We provide fire protection systems, security systems, fire sprinkler systems, fire alarm systems, 24-7 monitoring, fire extinguishers, card access and kitchen hoods. We also provide our Online Academy: Life Safety — Made Simple with eLearning courses designed to help you get and keep your staff trained and your business fire and security code compliant.