by Stephen Cieslukowski, President | May 1, 2020 | Blog Posts | 0 comments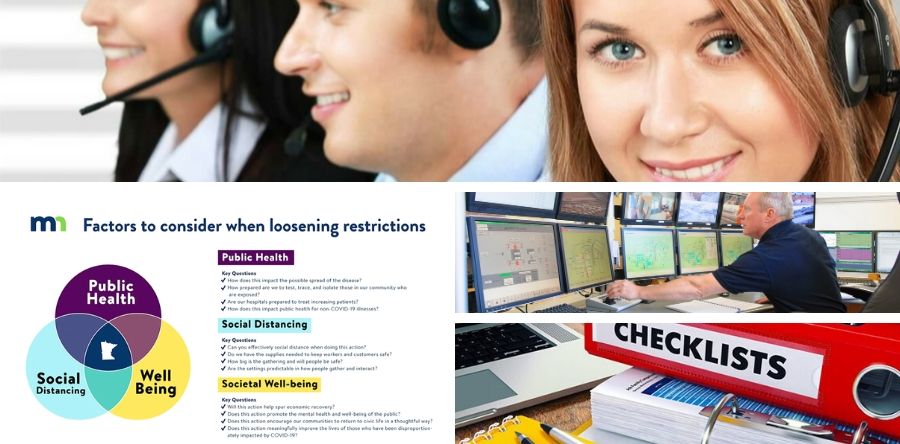 Strategic and Gradual Return to Work Plan
Minnesota has begun its careful and gradual return to work in light of COVID-19. First, it was landscapers, groundskeepers and golf courses, and last week 20,000 businesses with approximately 100,000 employees reported back to work. More businesses will open in the coming weeks.
Expanded Safe-At-Work Standards to Consider
With new safe-at-work standards, some are already in place and others will be determined in due course. No matter what your business and industry, we need to adjust how we do our work, how our employees do their jobs, how we adapt our workspaces, and how we interact with clients or customers. The goal of the safe-at-work standards is minimal contact and effective sanitation solutions to reduce viral exposure.
Government and business leaders, and health experts stipulate that to reopen your business—large or small—you must develop, complete and publicize safe-at-work requirements and guidelines, such as:
Employee training and orientation on hygiene and workspace cleanliness
Personal protective equipment (PPE)
Disinfection measures
Physical distancing protocol
On-site health screening
Self-quarantining and return-to-work policies
Visitors and contractors screening
Brothers Fire & Security has made these and other adjustments to our safe-at-work requirements and guidelines. I can assure you that all our employees, whether in the office, the shop or on the field, maintain consistent CDC protocol, best practices, and PPE standards to ensure the safety of our contractors and customers.
Integrated Bundling Streamlines Results, Safety – And Savings!
One of our strengths is being able to plug into the mindsets of diverse industries to solve their specific fire and security needs. One way we do this is through our integrated bundling approach. Many businesses have multiple vendors who install, service, inspect and monitor their systems. But by bundling, instead of having three or more vendors, Brothers Fire & Security streamlines services so you have just one coming to your locations. This is especially critical for healthcare providers, multi-family housing, schools and office buildings. The fewer people in the building, the better. For example, inspections must be done, but access needs to be restricted. We schedule inspections for the same time to reduce contact and exposure.
In these complicated and ever-changing times, bundling naturally simplifies your fire and security needs, increases safety, reduces contact with people, and saves you time and money. You'll even discover that billing is simpler and often takes less time.
To learn how bundling will complement your safe-at-work requirements and guidelines, call us (800-607-2767). Together—using social distancing and communication technology, of course—we will discuss your unique fire and security needs so we can plug into your business's mindset.
On Call 24/7
Among the 82 percent of Minnesota businesses deemed "essential" during the COVID pandemic, Brothers Fire & Security is on the job for critical service providers, such as care centers, assisted living and senior living facilities. We protect apartment complexes—the safe havens for thousands of Minnesotans, and commercial real estate. Even though schools, daycares and some businesses are still closed, we are open to meet their needs. We work alongside counties, cities and schools in their bidding processes. And as always, all our services are 24/7.
About Brothers Fire & Security
As one of the premier providers of fire and security solutions in the Upper Midwest, Brothers Fire & Security strives to build long-term, value-added relationships. We work with business owners and property management companies, as well as all types of public institutions to solve fire and security needs. By taking advantage of our integrated bundled services, many of our clients find that they can save 25-30% on their safety services, annual inspections and more. From a single location to franchises throughout the region and the country, our integrated approach saves our clients valuable time, money and stress. We provide fire protection systems, security systems, fire sprinkler systems, fire alarm systems, 24-7 monitoring, fire extinguishers, card access and kitchen hoods. And coming soon, our new Online Academy: Life Safety — Made Simple with eLearning courses designed to help you get and keep your staff trained and your business fire and security code compliant.