by Stephen Cieslukowski, President | Sep 15, 2021 | Blog Posts, News | 0 comments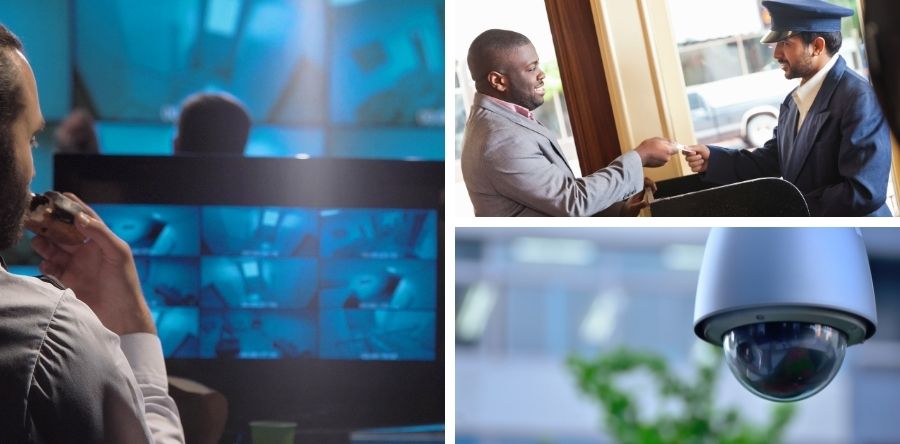 Every business and location have unique security criteria to consider. There's no such thing as a "one size fits all" situation to protect your people and your property. Security needs change over time due to a variety of reasons. As a result, new solutions need to be deployed to effectively meet demand.
This blog takes a look at two of our clients, their needs and real-life security issues and their different solutions.
Security Needs Change at a Prominent Hotel
COVID and local security issues changed access control needs at the hotel. It's also going through renovations after being closed during the pandemic. There are three ways to access the hotel: the skyway and two street entrances. Currently, the doors are locked from the outside, which means there's no access to the general public. There's a doorbell that's monitored at the front desk, but there's no way to open the door without leaving the front desk. The only way to access the hotel is through the valet or with a room key.
The hotel's solution to access issues is upgrading the current wiring and battery life of the commercial doors. To accommodate the updated access requirements, new hard-wiring needs to be developed. Once that is completed with the technical expertise of Brothers Fire & Security, the hotel will be ready. With the hockey season starting soon, and other event venues opening, the hotel plans a "soft" reopening this month with complete access to meet the needs of guests, the public and employees.
Security Cameras, Data Storage and Multi-Family Housing
Data storage and access issues often change over time. Outdated technology can be a challenge due to older systems. Cameras may be functioning, but the data may not be secured or accurate for current needs.
A camera is not just a camera. There are different kinds of cameras to address various needs, times of day, distance and other criteria. The quality of images can make all the difference when forensic data is needed to effectively manage risk. For example, rural areas have different lighting needs than urban areas which have more available light. Camera selection is all about what you need to see. Data storage is all about how the information is stored and accessed.
A multi-family housing client had a 15-year-old security system that no longer met their needs. In fact, the person who installed the DVR actually locked out anyone else from the system. Complicating the problem, the person was no longer employed by the property management company.
Issues that the client had to consider were:
Who is monitoring the footage that's being recorded?
Where is the data being stored?
Are the images being captured useful or are they blurry?
Is there sufficient lighting to capture images as needed for security data?
Are the swimming pool areas adequately covered by the available lighting?
Based on these issues the client needed a security proposal to address:
The need for new technology.
Four cameras were no longer sufficient.
An obsolete router.
The old DVR was running on obsolete technology.
New software is available, but the old DVR system was not compatible.
Our Solutions
Brothers Fire & Security doesn't make suggestions until we do a full analysis. Our technicians are experts in making sure that solutions meet a wide variety of criteria for each client. We present as many options as possible, and guide clients in making informed decisions about what's going to work best, short- and long-term.
We sent technicians to the hotel and the apartment complex to properly assess their current systems. They made recommendations based on the clients' needs and budgets. Obviously, their needs and solutions are very different. But the goal and outcome are the same: To keep people and buildings safe and secure.
As your long-term strategic partner, Brothers Fire & Security will provide the experience, recommendations and solutions you need using the latest technology. Our ongoing analysis will evaluate how your current systems are working and what may be missing.
Call us at 800-607-2767 and we'll evaluate your system to develop a plan that fits your needs and budget.
About Brothers Fire & Security
As one of the premier providers of fire and security solutions in the Upper Midwest, Brothers Fire & Security strives to build long-term, value-added relationships. We work with business owners and property management companies, as well as all types of public institutions to solve fire and security needs. By taking advantage of our integrated bundled services, many of our clients find that they can save 25-30% on their safety services, annual inspections and more. From a single location to franchises throughout the region and the country, our integrated approach saves our clients valuable time, money, and stress. We provide fire protection systems, security systems, fire sprinkler systems, fire alarm systems, 24-7 monitoring, fire extinguishers, card access and kitchen hoods. We also provide our Online Academy: Life Safety — Made Simple with eLearning courses designed to help you get and keep your staff trained and your business fire and security code compliant.