by Stephen Cieslukowski, President | Dec 5, 2022 | Blog Posts, Fire System | 4 comments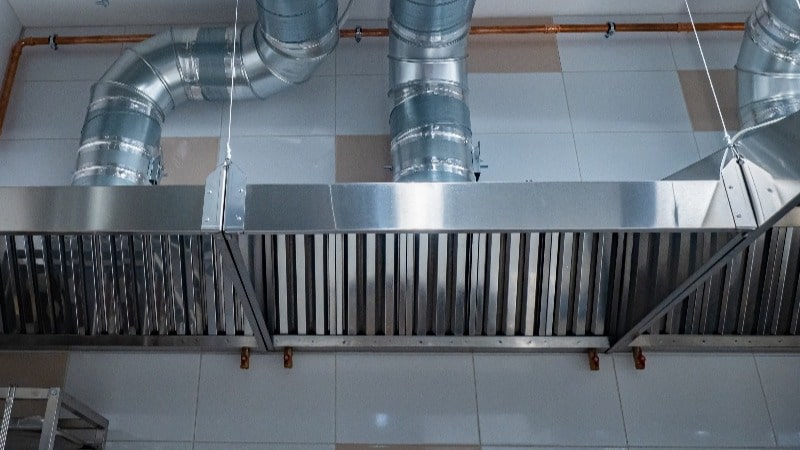 A lot can go wrong in a commercial-grade kitchen where grease, smoke, and flame are "tools of the trade." It may not always be top of mind, but kitchen fires are one of the most destructive and costly problems a restaurant, hotel, or any business can experience. More often than not, a kitchen fire is made worse by non-compliant or non-maintained kitchen hood suppression systems. And the stats prove it.
Based on four-year survey data from the U.S. Fire Administration (USFA) and the National Fire Protection Association (NFPA) in 2017, U.S. fire departments respond to an estimated average of 7,500 structure fires per year in restaurants. 61 percent involved cooking equipment, the leading cause coming from ranges, cooktops, and hoods. Specifically, 22 percent had "failure to clean '' as a factor resulting in the fire and damage.
The financial bottom line: $165 million in direct property damage each year. And, that doesn't even factor in the downtime making repairs to the kitchen hood and restaurant. Could your restaurant survive if it had to shut down for six months? Making sure that you and your staff keep your kitchen hoods properly cleaned, serviced, and inspected goes a long way in preventing devastating fires from occurring.
COMMERCIAL KITCHEN VIGILANCE
It's not just kitchens in restaurants that are literal hot spots. Senior living, schools, hotels—any business that has a commercial kitchen system—must keep a vigilant watch on their kitchen hoods to make sure they are in proper working order. They need to be cleaned and maintained for safety and compliance. This is a task that rests on the shoulders of a well-trained staff.
As a successful entrepreneur, you'll want to protect your customers and employees by making sure they hire a licensed kitchen hood company to keep their system properly maintained and code compliant. Stay on top of inspections because insurance claims are expensive. Plus, dirty and potentially dangerous hoods can hurt your business and reputation.
A WELL-KNOW METROPOLITAN TOURIST ATTRACTION CALLS ON BROTHERS FIRE & SECURITY
Let's take a look at how Brothers helped a lodge ensure kitchen safety and compliance during their remodeling/rebranding. The lodge had four separate kitchen systems in multiple areas and different kitchen hood systems (chemical and piranha). While rebranding and remodeling, the fire marshal instructed them to reconfigure the systems. The problem was their Grand Re-opening was only days away.
The lodge called on Brothers Fire & Security to help them meet a tight deadline. We responded to their needs ASAP. In just days we had made the changes and requirements requested by the fire marshal, and the Grand Re-Opening went on as scheduled without a hitch.
4 THINGS YOU AND YOUR STAFF NEED TO KNOW ABOUT CLEANING KITCHEN HOODS
(click here to download the checklist to post on your company staff board)
Dirty kitchen hoods don't clean themselves. Commercial kitchen hoods are not like your home kitchen hoods that take a quick swipe, and occasional filter and motor cleaning. When commercial kitchen equipment catches fire, it can lead to hood and ductwork fires, which quickly spread out of control if they are dirty or not operating properly.
Keep nozzles and links clean from grease so they don't clog. These need to be changed every six months or even sooner. Clogged nozzles and links can delay or prevent links from activating correctly and preventing a fire. And don't overlook the reality that dirty hoods can also be a health hazard for staff, customers, and residents.
Dirty kitchen hoods may impact or even restrict your ability to get and maintain adequate insurance. An insurance claim may result in a rejected claim leaving the liability with you, the owner. State Codes, NFPA, and most insurance companies require bi-annual inspections. Failure to do so is a violation of the NFPA code and you could be red-tagged, which can shut down the kitchen and cooking systems. And your business!
Set a schedule for kitchen hood inspections twice a year and get them on your staff calendar. It's a smart idea to schedule maintenance a few years out to make sure your kitchen hoods are in top performance. During inspections, make sure links are changed, nozzles are clean, the integrity of the mechanical activation is intact, chemical tanks are full, and the system will work. Regular maintenance makes sure that all the nozzles are positioned correctly and protects the right equipment.
To ensure your team stays on top of kitchen hood maintenance, print and post our Kitchen-Hood Inspection Checklist. If you find that repairs are needed, Brothers Fire & Security can provide you with all the necessary labor and materials to ensure NFPA 17A and NFPA 96 compliance.
Brothers Fire & Security goes the extra mile to meet the needs of our clients: emergency weekend jobs, short notice projects, obtaining the necessary materials, making the changes, testing the systems, and getting city approval—all done on time and on budget. That's our commitment: We'll get you in compliance and keep you compliant!
ABOUT BROTHERS FIRE & SECURITY FROM THE END OF LAST BLOG
As one of the premier providers of fire and security solutions in the Upper Midwest, Brothers Fire & Security strives to build long-term, value-added relationships. We work with business owners and property management companies, as well as all types of public institutions to solve fire and security needs. By taking advantage of our integrated bundled services, many of our clients find that they can save 25-30% on their safety services, annual inspections, and more. From a single location to franchises throughout the region and the country, our integrated approach saves our clients valuable time, money, and stress. We provide fire protection systems, security systems, fire sprinkler systems, fire alarm systems, 24-7 monitoring, fire extinguishers, card access, and kitchen hoods.