by Brothers Fire & Security | Feb 7, 2023 | Fire System | 1 comment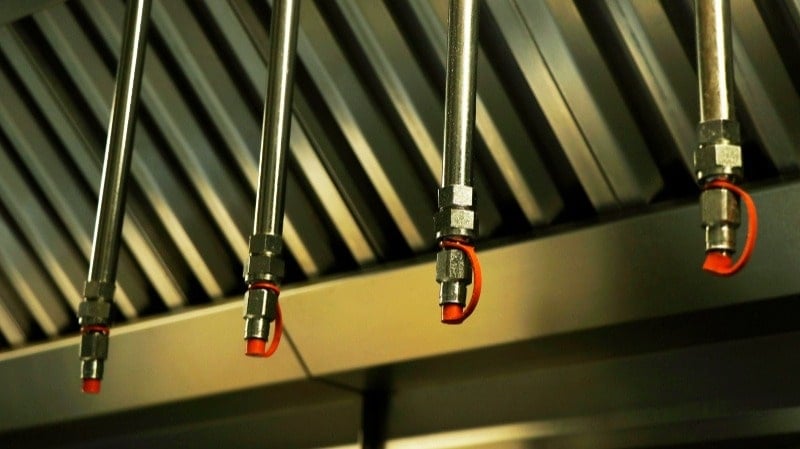 Food trucks are subject to the same fire suppression measures and requirements as other commercial kitchens. But there's one key difference: food trucks are mobile, and there isn't much room to work with. What's more, the need for more efficient ventilation systems is more pronounced for food trucks. Space limitations could easily lead to smoke build-up increasing the amount of oil and grease particles in the air potentially leading to a fire.
Since the majority of food trucks work with propane or compressed natural gas and a variety of flammable cooking materials, it's crucial to have a kitchen hood suppression system that's tailored to the requirements of your food truck.
Here are a few things to keep in mind when picking a kitchen hood suppression system for your food truck.
1. Type I vs. Type II Exhaust Hood System
Type II hoods are designed for kitchens working with grease, fats, and oils.
You might be asking yourself–isn't this all kitchens? Well, that's where type II exhaust hoods come in. Type II hoods don't pertain directly to cooking with grease, fats, or oils. They work to remove excessive heat, moisture, and odors from the air. They create a more comfortable environment and are generally installed over cooking or dishwashing equipment that produces steam or heat, such as pizza ovens.
Doubling back to type I hoods, these suppression systems are specifically designed to capture and exhaust air and grease particles from above cooktops, wok ranges, deep fryers, or open-flame stoves. These systems need to be cleaned regularly to avoid the build-up of oil and grease, which could present a fire hazard.
All in all, your kitchen hood suppression system will need to be tailored to the size and design of your food truck as well as the cooking you do.
2. Function and Ergonomics
As mentioned, space is especially limited on a food truck. You'll have to account for staff movement, storage, cooking equipment, and service windows. And don't forget windows, doorways, and the location of electrical outlets. Any ventilation and hood suppression system will have to be designed with all these constraints in mind.
When picking a hood suppression system, it's important to consider how you plan to use the space inside the kitchen and the kind of cooking and cleaning equipment you'll need. You'll need a hood suppression system that is compact yet highly efficient at extracting heat, smoke, and grease. The design of your exhaust fan is another crucial element to consider. It needs to take up as little space as possible and meet local height requirements to avoid potential problems while in transit.
3. Always Check Local Laws
Food trucks are designed for mobility. As such, they may wander in and out of certain jurisdictions. That said, food trucks almost always serve the same neighborhoods. The NFPA (National Fire Protection Agency) now requires fire protection measures on food trucks and concession trailers to be inspected and maintained by experienced fire protection professionals.
As such, it's becoming increasingly important for food truck owners to partner with an experienced fire protection company to properly install the necessary equipment. In addition, partnering with a good fire protection service provider enables you to stay in compliance while ensuring the safety of your employees, customers, and keeping your truck on the road..
Get Some Expert Advice
Our team of certified technicians will help you choose and install the right hood suppression system for your fire truck. With Brothers Fire & Security, you're assured of a high level of service every time and a team that's available 24/7 to address any issues you might have. We'll develop a system built around the unique needs of your food truck and cooking methods. Contact us today, and let's get your food truck up to code and running.